FT Future Technologies S.r.l. was founded in 1995, basing on more than twenty years of professional skills of its associates and managers about vacuum technology, filling of refrigerants, brake fluid circuits, industrial automation, data processing and communications.
FT headquarters and new production 500 sqm facility are located in Castel del Piano, in Tuscany close to Siena and Florence.
FT is the ideal partner for the handling of Vacuum and Refrigerant gasses in the Cold Industry. All the equipment is made in-house and our services are conducted from our headquarters.
Our company offers high level of customization thanks to its continuous research and development that leads to improvements of the specific application requested from the customer.
Hundreds of FT equipment are now working 24h per day, 365 days per year all around the world, with high reliability, performances and high quality of production cycle.
FT specialized technicians are always ready to reach every part of the world to support our customers. Our goal is always to improved the production lines of our customers in an efficient way.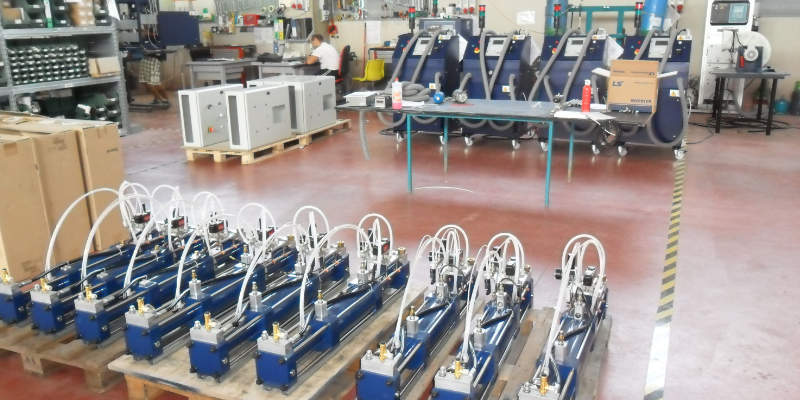 Product Overview
Refrigerant charging Automatic Stations
Refrigerant transfer pumps
Preliminary evacuation Automatic units
High pressure Fluids Automatic Charging Stations
Tight tests Stations with tracer gas
Charging Units for leak detection
Refrigerant recovery devices
Electric Safety test equipment
Functional test equipments
Ultrasonic Tube Sealing
All-In-One Tight Test and Refrigerant Charging Stations
Main Applications
Domestic refrigerators and freezers
Professional refrigerators
Refrigerators/food sales point
Refrigerating units in transportation
Machinery for ice cream
Chillers
Dehydrating systems
Domestic air conditioning/heat pumps
Car/truck air conditioning systems
Centralised air conditioning stations
Main Activities
Line engineering and integration
Production and assembling
Customer pre-sale engineering
Commissioning and start-up
Technical support and maintenance
Training basic and specialized level
Special customization on demand
Continuous Research & Development
Quality production procedures
FT Future Technologies S.r.l.
Via delle Sorgenti, 5
58033 Castel del Piano GR ITALY